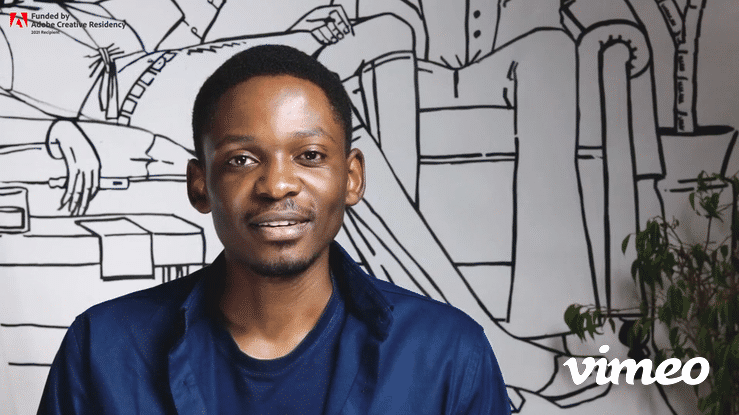 "Art allows me to speak from the heart" 
Müs is an award winning Artist and Designer, born in Zambia and raised in Johannesburg. He traverses the two worlds of traditional and digital approaches toward art-making, as well as those of contemporary art and creative industry. Musonda's integration of various media and contexts make his art unexpected and moving.

He works independently, conceptualising short and long term projects that question social reality and galvanise empathy through characterisation and illustration, alternating between bold lines, tonal depth, and slight movement in GIF form. 
Written by Laura Kolesoff
His work has been featured in Foreign Policy Magazine, The Sunday Times, The Mail & Guardian & Design Indaba, Red bull Music Academy
" The lifeblood of Kabwe's work is hybridity."
The Mail & Guardian
"He recognises that people tend to keep their thoughts to themselves, and he hopes to get them laughing about such obstacles. Kabwe sees No Narrative as a weekly offloading of his own life experiences, reflecting on them and seeing personal issues under
an objectifying filter of simple illustrations."
"Müs has a beautiful way of communicating powerful messages through illustrations – which is probably why industry professionals so often turn to him."
Between 10 & 5
SELECTED CLIENTS
Adobe/Hyundai / Huawei /Mastercard /Over by Godaddy /  Nando's / Castle Milk Stout / Castle Lite / Quartz/ MTN / First National Bank / Telkom / Ads 24 / Shoprite Checkers / Superbalist /  The South African Reserve Bank/ Johnnie Walker
CREATIVE AGENCIES I'VE WORKED WITH
Grid Worldwide / Sunshinegun / FCB Africa / Fresh Helga / Altivex / Mbongiworks / Ami Collective / Black Powder / Isoflow / Publicis Machine / Altivex/Fort /BCKRDS 
AWARDS & HONOURS
Craft
Gold Loerie Award
2018 - MTN Illustration Style, Africa & Middle East

Shortlisted, T
op 20 illustrators in Africa & Middle East
, Loerie Awards 2018, Africa & Middle East

Shortlisted, Bayeza 2018 Between 10 & 5, South Africa

Design Indaba Emerging Creative 2015, South Africa
EDUCATION 
​​​​​​​
The National School of the Arts
ND Graphic Design - Cape peninsula University of Technology